Driving down an old dirt road suddenly the gloaming's dramatic hue enshrouded me just after sunset. Glancing toward the deepest shadows two white horses brilliantly unexpectedly popped into view. Out of the darkness the ignition of forms the mind had to catch up with. How could this happen? Such a rare moment! I was stunned. I pulled the car to the side of the road. Within seconds the horses disappeared. I tried my best to adjust my eyes, tilt my head, blink the eyes in the dimness to tease out the forms of those two horses. I winked, blinked, nodded. All to no avail. I couldn't get those horses to reappear in their brilliant utterly surprising expressions of life's beauty. The moment passed. No wish, squint, wink, blink, or nod could bring back that moment's glory! I wanted it back — for it to remain delighting my senses by sheer astonishment. Again!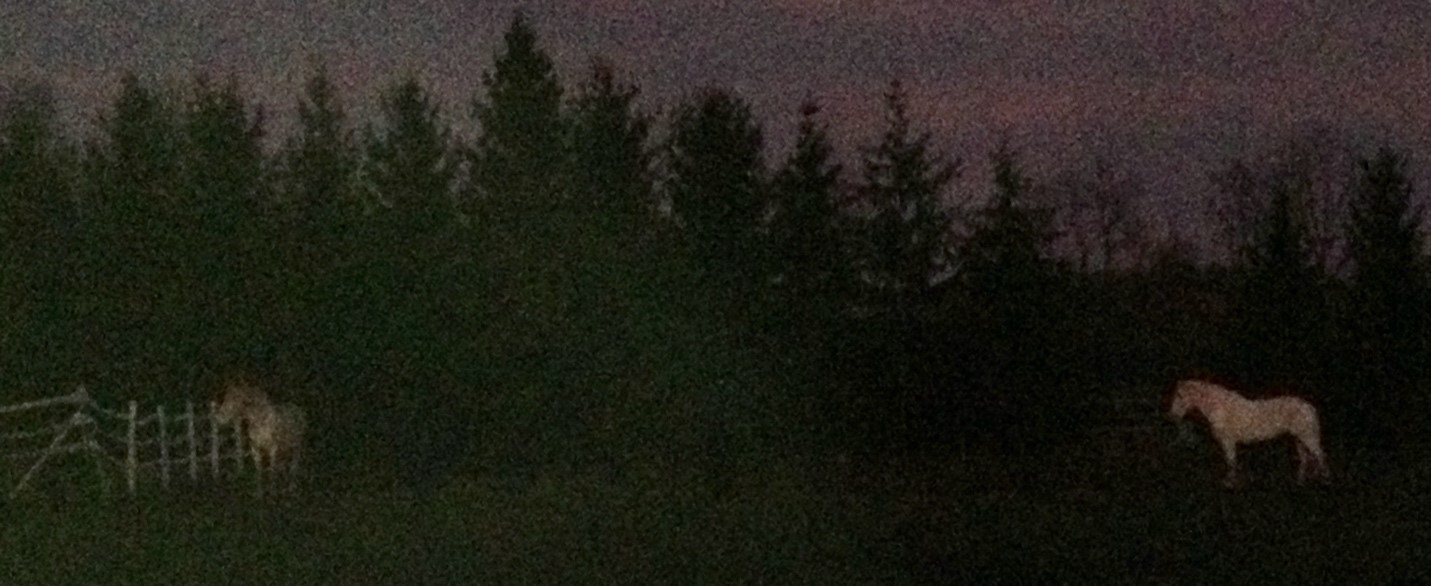 In the gloaming of every moment in that betwixt place of experiencing something interesting, delightful, or astonishing, we tend to treasure such stuff with fullness of heart. God is something like the sudden appearance of these horses. God is always reaching inside our limited experiencing encouraging us to allow in the light of the further reaches of life's possibilities in love. Jesus shared 12 … "I am the light of the world. Whoever follows me will not walk in darkness, but will have the light of life." (John 8:12) Darkness is real. Vulnerability, frustration, and anxiety in darkness can be very real. The Good News is that in the darkness there is a light that always startles in some root way by surprising, astounding, unexpected appearances. "A lamp for our feet and a light for our path." (Psalm 119:105)
Love within us all encourages us to be this light and share this light with others. That's the whole enchilada in a nutshell ("Never mix your metaphors:" my former grammar teacher mother tried to teach her children.)
Today notice what pops into view startling you. Like these horses appearing as if out of nothing from nowhere – such moments of beauty and shared love can alter our lives forever. Life is always on the fly. Moving. Arising. Changing. Simply be open to the wonder of Spirit refreshing, renewing, blessing, reminding, and sustaining us. Catch the wave of such moment's worthy glow. Notice. Open your heart.
Notice opportunities to see through the heart of wonder. The seas of life are blessed as we sail forth each in our little wooden floating shoes when love's light is shared and available.
Wynken, Blynken, and Nod one night
Sailed off in a wooden shoe —
Sailed on a river of crystal light,
Into a sea of dew….
All night long their nets they threw
To the stars in the twinkling foam —
And some folks thought 'twas a dream they'd dreamed
Of sailing that beautiful sea —
See the appearances of unexpected graces. Be that grace. Grace ignites light. In this light the holding grip of violence of so many kinds emerging from darkness' fearful reach ceases. Other options appear and are given credence of the heart. Only then does floating in this shared sea of life become more bearable for more of us. Love's origin is God. Love's ignition begins by us seeing the opportune moment's possibility. Love within us all encourages us to be this light and share this light with others.
Curt