Missions
GCC In the Community
The Greenbelt Community Church family enthusiastically and purposefully participates in local and global efforts to care for our neighbors.
Christmas in April
The Christmas in April program allows congregants to serve neighbors who need better housing. On one day in April GCC volunteers lend their carpentry, drywall and construction skills to renovate a house for a local resident or family. It brings joy to everyone around.
Crop Walk
Greenbelt Community Church participates each year in the CROP Hunger Walk for Church World Services, a faith-based organization that serves communities around the globe through sustainable responses to hunger, poverty, displacement and disaster.  We join with other local churches in the Hyattsville area CROP Walk, which takes place in College Park at Lake Artemesia.
CROP Hunger Walks are community-based walk events held in cities and towns across the United States raising funds for Church World Services' global mission. Twenty five percent of the funds raised are returned to the host community to support local hunger fighting efforts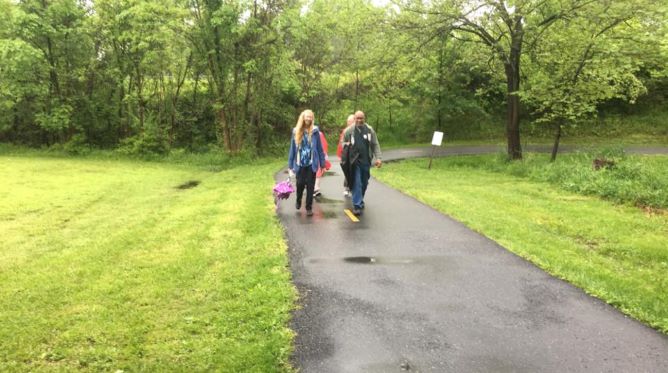 Safehaven at Greenbelt Community Church
We host the Safehaven men's homeless shelter annually during a week in late December. Volunteers come from our congregation as well as from members of Mishkan Torah Synagogue, St. Hugh's Catholic Church, Catholic Community of Greenbelt, and Holy Family Catholic Church of Bowie. Our friends in the Beltsville Seventh Day Adventist Church and leaders of Boy Scout Troup 202 support the Safehaven week with food donations.
Community Place Café
When there is a fifth Monday of the month GCC provides lunch for the approximately 60 people who come to The Community Place Café, located at the Hyattsville United Methodist Church. After church service the day before, we gather in the church kitchen to make 180 sandwiches which we serve on Monday together with hearty soup and chili, tortilla chips, cookies, juice and water.
Help By Phone Grocery
Greenbelt Community Church members and friends collect and fill bags and boxes of nonperishable groceries. We are helped by the Greenbelt Cub Scouts Pack 202 & Greenbelt Boy Scouts Pack 746. Proceeds go to Berwyn Heights Presbyterian Church Food Pantry, Moravian Church in Lanham, and St. Hugh's Food Pantry in Greenbelt
Heifer Project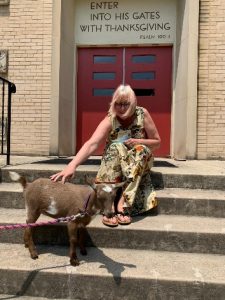 This encounter with a goat is a reminder of the fun fundraising by GCC Youth for Heifer International, a global organization that addresses poverty and hunger by supporting local farmers and communities  with seed investment of livestock or agriculture, and mentorship.  Money has been raised for goats, sheep and other projects through bake sales, karaoke nights and crafts.
Luncheon-on-the-Lawn
GCC serves a lunch outdoors after the annual Labor Day parade as part of the Greenbelt Labor Day Festival. Immediately following the parade, the church sets up tables and chairs on its lawn and serves a luncheon of with a selection of home-made barbecue, hot dogs, baked beans, salads, home-made desserts and cold drinks. Fifteen percent of funds raised goes to the city's Labor Day Committee and the remainder is collected by the church as one of its annual fundraisers. It's good eating and great relaxation, and generally draws people from all over town.
Iftar Dinner
In recent years, GCC has hosted an Iftar dinner open to people of all faiths during the Muslim holy month of Ramadan.  It is a shared meal to break the fast at sundown during Ramadan, and also have fellowship. These dinners provide an opportunity for connection, dialogue and community building.