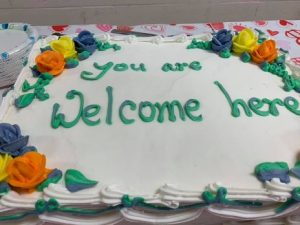 Greenbelt Community Church, United Church of Christ says, "wherever you are and whomever you are on life's journey, you are WELCOME here."
Greenbelt Community Church celebrates diversity. We have a variety of talents and differing opinions about religion and social issues. What brings us together is a loving God who calls us to peace, justice and love.
By sharing together, all are enriched. As part of a supportive community, we're strengthened to serve those in need and live more thankful lives.
Ours is an open church. Visitors are always welcome. Your ideas and talents will widen and deepen our fellowship. You will find support and freedom as you work out your own answers to life's questions.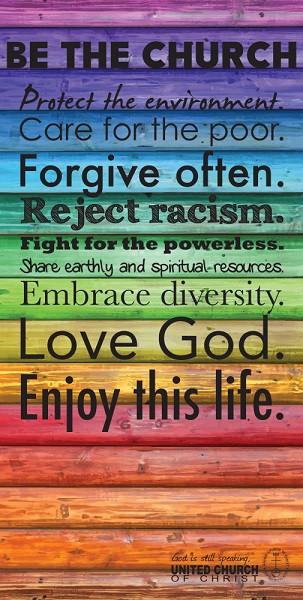 Our Statement Of Purpose
We uphold and affirm the principles of the Christian faith as commonly held among us, believing the foundation laid by Jesus Christ is our greatest strength.
It is our aim to bring joy, instruction, high ideals, inspiration and comfort to people of all ages, to work together for the betterment of all.
Our fellowship will not be dependent upon identity of theological opinion, or of outward circumstances, or of denominational name but will grow from a common loyalty to Jesus; a common passion to serve the world; a common purpose to do justly, to love kindness, and to walk humbly with God.
Our ideal is a church of the open mind, the warm heart, the aspiring soul, and the social vision, which ever seeks to express in all ways the mind and spirit of Jesus.
We are an Open and Affirming Church
Love God, Love your neighbor. Period
Greenbelt Community Church values all of God's children and welcomes the gifts that each of us bring to the church.  We believe that we are all one in Christ Jesus (John 17:21), that we are all created in the image of God (Genesis 1:26) and affirm that we are many members of the same body in Christ (Romans 12:3-5).  We recognize that Christians differ on issues of sexual orientation and gender identity. Our understanding of the nature of God's still speaking voice and the invitation to live out Christ's extravagant welcome to all, lead us to declare ourselves to be an Open and Affirming congregation.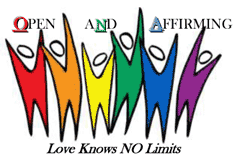 We acknowledge the history and confusion of the institutional church in condemning and excluding lesbian, gay, bisexual, transgendered and queer persons, and in condoning such discrimination by its silence.  We commit ourselves to work to end such oppression and discrimination.
We also recognize that those who are questioning, exploring or discovering their sexual orientation or gender identity are often uncertain of their welcome in a church community.  This fear of rejection can be especially damaging to our young people at a time they most need the support and love of the church.
We welcome everyone seeking God's presence to our service of worship and into the full life and leadership of the church. Whatever your background might be – your race, your nationality, your age, your physical or mental ability, your gender identity or expression– whoever you are and wherever you come from, we welcome you into our community of faith.