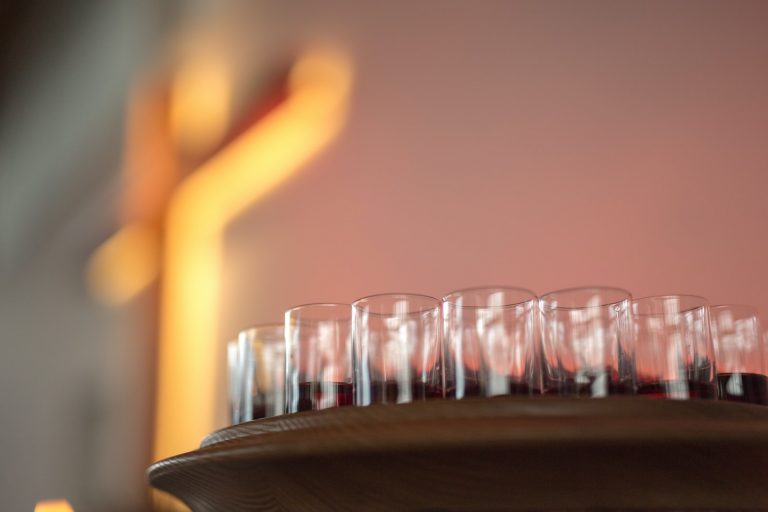 In the 1930s the congregation of Sunnyside Presbyterian Church in Pittsburgh, Pennsylvania decided to embrace a feeling of ecumenism popular in the wider church of that time.  They instituted the first Communion service to be designated Worldwide Communion Sunday on the first Sunday of October.  It would be a time to remember Christians around the world gathering at the Table to remember the life, death, and resurrection of Jesus.  The idea caught on and this Sunday is World Communion Sunday.
As I remember the beginnings of this special day in the life of the church, I am also remembering the tensions of the 1930s.  On one hand, there were international gatherings of church representatives talking about how they may achieve more unity with one another.  The words from the gospel of John were guideposts:  Holy Father, protect them in your name that you have given me, so that they may be one, even as we are one. (John 17:11).  In 1931, the Congregational Christian Churches were formed, bringing together the General Convention of the Christian Church and the General Council of the Congregational Churches.  In 1934 the Reformed Church in the United States merged with the Evangelical Synod of North America to form the Evangelical and Reformed Church.  In 1957 these two new units would become the United Church of Christ.  It was a heady time in the church as people imagined new ways to be together in unity in Christ.
At the same time, as we were so poignantly reminded in the most recent Ken Burns Documentary, our nation and the world were working overtime to exclude people.  The forces of isolationism were strong.  Antisemitism feelings were so intense there was pressure to deny Jewish refugees from European atrocities a safe home.  In May 1939, the ship, the St. Louis, carrying 937 passengers away from the Nazi persecutions was turned away from all ports in the United States and forced to return to Europe as war broke out.
The first World Communion Sunday was celebrated in 1933.  The ship of refugees from Nazi terrors, the St. Louis, was turned away from our shores and a safe future in 1939.
It is wonderful to celebrate the unity in Christ we share on World Communion Sunday.  But as we think about other peoples, other cultures, other expressions of faith we need to realize that unity in Christ also means unity in Christ's message of love enacted.  Otherwise, it is a meaningless ritual.  May this Sunday be a time we recommit ourselves to living a life of faith in the One who gave everything in service to the whole world.
Rev. Clara